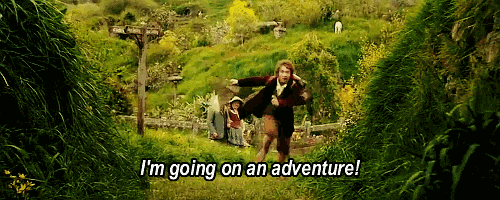 Hello all, I am going to be making an interactive blog of my trip to New Zealand for Studying Abroad this summer & fall. I will be leaving mid-to-late June after my 21st birthday. 
I will be arriving in the city of Auckland where I will be enrolling in film courses at the University of Auckland, New Zealand. This opportunity will be life changing and I can't wait to get out there and learn and study what I love, film!
After many hours of completing a grueling application, I was 1/16 emerging filmmakers to be selected out of thousands around the world to partake in a 4 Week Screen Tools course led by John Callen. Many of you know the worldly famous series "The Hobbit" right? Well, my instructor for this special course is led by the Dwarf "Oin" who has loads of acting, directing, and film experience. We will be learning and be trained on all parts of production from start to finish for any film or TV show taught one-on-one by him and many other professionals. 
In this 4 week summer course at the University of Auckland, me and a team of 16 young filmmakers will be developing a pilot episode to a TV Drama series. I am hoping to be selected as the lead director or filmmer for this project, as that is what I want my future career to be. This will be an unbelievable experience working with a team of motivated and passionate filmmakers like me and I can't wait to see what I will learn and how my strengths and knowledge of my beloved craft will grow. During this film course we will be taking a visit to the famous Hobbiton Site where Bilbo Baggins and the hobbits live in the Lord of the Rings and Hobbit series. We will have the opportunity to do on-site filming there as well which would be incredible. We will also be making a trip to the Weta Workshop. The Weta Workshop is a workshop in New Zealand where loads of bigtime movies such as Avatar, Mad Max, Batman, The BFG, Furious 7, Warcraft, Godzilla, Indiana Jones and much more were brought to life. Here at the workshop they're expertise is in world-leading design and effects facility servicing the world's creative industries. Here they do various things from 3D Modeling, Animatronics, Engineering, Hair, Makeup, Costume Design, Prop Design, Prosthetics and Creatures, Molding, Miniatures and Models, and much more! Pretty much everything you see in films from outfits, lighting, animation, makeup, robotics, weaponry and so on is done here. 
After this course and after I have developed a pilot TV drama series episode I will then start my Semester of study abroad at the same University from July until November 23rd. I will be taking 3-4 film courses such as learning about Action films, Hollywood and its others, and Storytelling. Once my semester is over, I am hoping to still have enough cash saved up to travel and backpack New Zealand more and explore the wonderful beauty it holds through its ocean fronts, mountains, and beautiful landscapes all over. I will be taking many videos and photos along the way and you can keep up with my adventure HERE along the way!
- Peace, GP
Please reload
I'm busy working on my blog posts. Watch this space!
Please reload
I'm busy working on my blog posts. Watch this space!
Please reload